Docentric Toolkit 3.0 is out
ponedeljek, 01. junij 2015
We are pleased to announce a new release of Docentric Toolkit that we were working on for the last several months. While versions 2.X were mostly addressing PDF and XPS output capabilities, this version makes significant improvements in our template designer - Docentric Toolkit Add-In for MS Word.
XPath Editor
We have received many complaints about the existing Binding Control in the Add-In for MS Word. Binding Control is handy when a binding path is a simple XPath expression that can be auto-created by simply picking the correct XML node from the Binding Control. While this is sufficient in most cases, sometimes more complex XPath expressions are needed to be written manually.
For such cases we have created an XPath Editor that will help you with constructing XPath expressions. There is a new "Edit XPath" button in the Binding Control that brings up the new XPath Editor.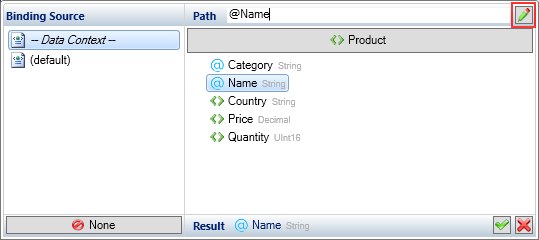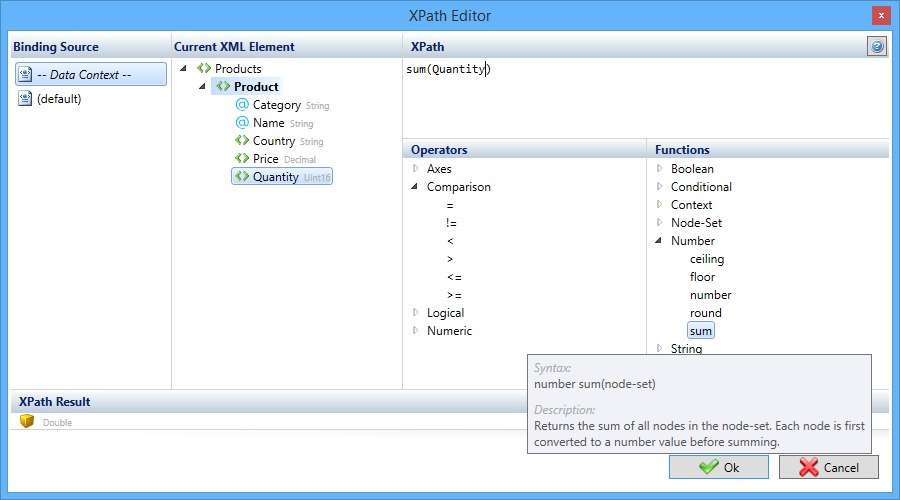 The editor will help you to build XPath expressions by evaluating and validationg them on-the-fly, as you type. The XPath result is shown if the expression is syntactically correct and valid according to the imported XML schema. Otherwise, a detailed error is displayed.
While building your XPath expression you can use a reference list of XPath functions and operators.
It features built-in help in the form of lists of all functions and operators that you can use in XPath expressions.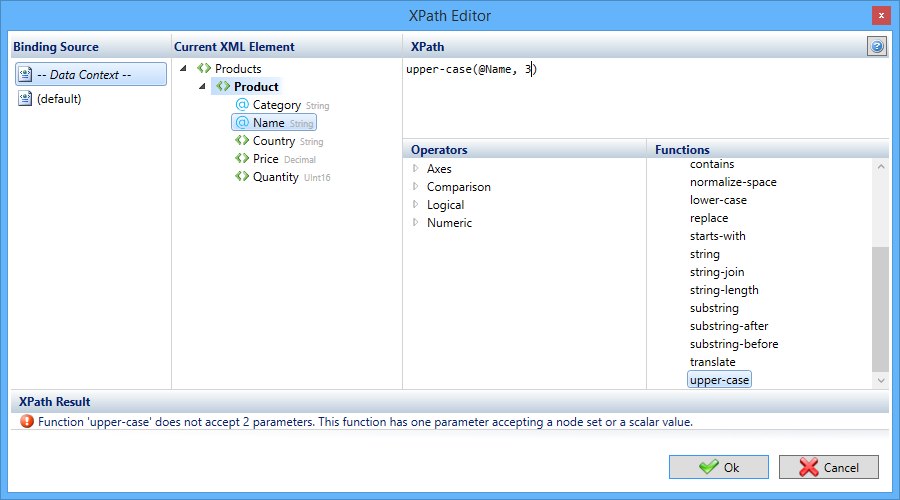 Improved XPath support
So far XPath 1.0 has been fully supported and you could write any XPath expression to define an XML data binding. Still, in certain cases XPath was not powerful enough and this release address these issues.
Limited node selections
Selecting an ancestor of the context XML node was impossible due to the internal working of Docentric Toolkit's data binding mechanisms. For example, you could not use operators '..', '/' or certain axes. The following XPath expressions, for example, did not work:
../Customer/@Name
/Invoice/Number This issue has now been fixed and all the operators work as expected.
XPath Extensions
XPath by itself is powerful enough to define various calculations, filters and perform basic data shaping. What it lacks are functions. Especially string manipulation functions. We have completely re-implemented XPath evaluation engine in Docentric Toolkit to address this issue. The new engine is extensible and allows for adding new functions in addition to the built-in ones as needed. We have already added several functions that you requested or we deemed were missing from the standard set.
The functions that have been added so far are:
iif - Inline IF. Returns the second argument if the first one equals True, otherwise it returns the third argument.
current - Returns the current XML node. This is different than the context node. This function always returns the Binding Source XML node.
data-source - Returns the root node of the specified data source.
string-join - Concatenates strings of the give node-set into a single string delimited by the specified character. This function also alows you to optionally specify a delimiting character for the last string in order to get the result in the following form: String One, String Two and String Three.
lower-case - Lower-cases the given string.
upper-case - Upper-cases the given string.
replace - Returns a string that is a result of a replacement operation of the specified string by using a regular expression and a replacement string
This is just the initial set of additonal functions. We will be gradually introducing new functions in the future. You are most welcome to tell us what function you are missing and would like them to be included in the next release.
Selecting related and cross-data-source XML nodes selections
We have been always recommending using highly structured XML documents as data sources. Understanding and dealing with structured XML data from template design perspective is far more easy as opposed to when having an XML document where all data is in the form of flat XML nodes. Still, sometimes creating structured XML is an overkill or simply isn't possible.
One example would be a generic document generation system where data is loaded from a database in a generic way. The database contains myriad of different tables and there is no application that would properly shape the loaded data. The data that comes from the database is always converted to XML first and fed to the document generator, regardless of the type of the loaded data. Such data will always be unstructured (rectangular) and its corresponding XML will be flat, consisting of XML nodes all being inside the root node.
Consider the following example where a user loads Invoices and their corresponding Items. The corresponding XML might look like this:
...
<Invoice Id="1" .../>
<Invoice Id="2" .../>
<Invoice Id="3" .../>
...
<Item InvoiceId="1" .../>
<Item InvoiceId="2" .../>
<Item InvoiceId="2" .../>
<Item InvoiceId="3" .../>
...

The goal is to create a document with the list of all the invoices where each Invoice row would contain a sub list of its corresponding Items. To achieve this we would need to place two LIST tagging elements on the template with the first one data bound directly to the data source with the binding path set to Invoice. The LIST tagging element would this way select only Invoice XML elements. The second LIST element must be nested inside the first one and would represent the second-level list for invoice items. Since the nested LIST tagging element must select only those items Items that belong to the "current" Invoice, we must data bind it to the "current data context" of the outr LIST tagging element and set the binding path to an XPath expression that would select only related Items. We could write something like this:
/Items[@InvoiceId = ./@Id]
Well, it turns out that the expression above doesn't work as one would expect. The problem is that the node selector '.' returns the "context" node which in the XPath world doesn't mean the same as in the data binding world of Docentric Toolkit. Selector '.' inside the filter returns an Item node, instead of the current Invoice node. Sadly, but XPath doesn't have the means to select the current XML node.
For this reason we introduced our own current() function that always returns the current instead of the context node. So, the proper XPath expression that selects the Items that belong to a particular Invoice would look like:
/Items[@InvoiceId = current()/@Id]
Preview
The Add-In for MS Word has finally got the Preview. This function will allow you to generate a document directly from the Add-In.

You can now opltionally set sample XML data that is used to populate a template, each time you run the Preview. Note that when you specify an XML to infer the schema from for a data source, the same XML will be used as a sample XML for previewing.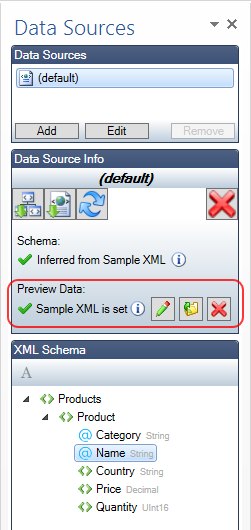 This functionality is currently available for templates with XML data sources only. We will wait for your feedbacks first before implementing the same for templates with .NET Object data sources.
We added another sub-feature. There is a built-in XML editor that you can use to edit a loaded sample XML on-the-fly or creating a new XML document from scratch. If you need to quickly change the values in a sample XML, you can now simply edit inside thge Add-In, without doing it in an external XML editor and reloading it back in the template. The new XML editor automatically attaches the schema to the edited XML file. This means that full intellisense and validation will be available as long as the XML schema is specified.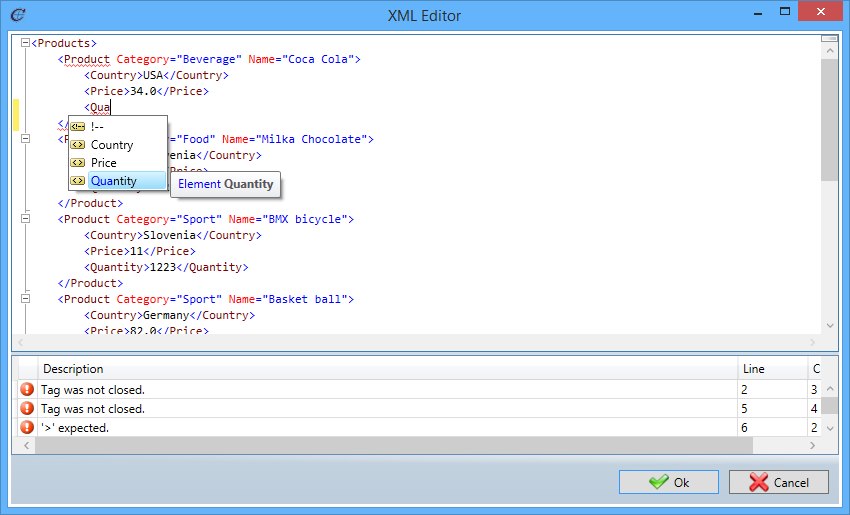 End User Mode
Initially, when we released the first version of Docentric Toolkit years ago we targeted developers with it. But we soon realized that the Add-In was friendly enough for non-developers that they were using it too. We have been improving user experience for a long time in order to bring the toolkit as close to the template designers (users) that are not programmers nor they are familliar with software development concepts. Today we know that there are many non-developers designing templates using Docentric Toolkit Add-In for MS Word.
There is a new End User Mode button on the "Docentric Toolkit" MS Word ribbon tab.

It is our latest effort to bring the Add-In even closer to non-developers. This new button hides some technical details when they are not necessary. It is a toggle button and it affects how schema trees in the Add-In are displayed when using .NET Object or XML data sources. By turning End User Mode on, views of schema trees change: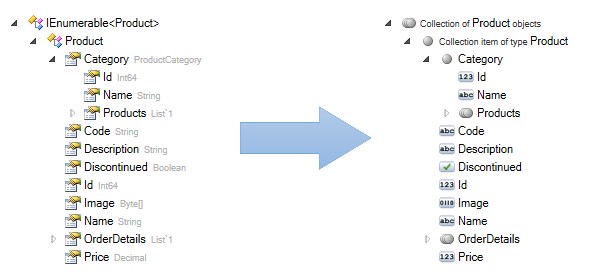 Labels
Labels are user friendly names for schema members. When creating an XML schema, you can include labels for each XML element or attribute. Sometimes XML schemas contain XML nodes with names that are not meaningful enough to a user designing templates. In such cases you can attach labels to XML nodes which act as descriptions for the nodes. For example, you can add label Request for quotation ID to the attribute RFK_ID. When labels are present, the Add-In use them in two different ways:
A tooltip with the label text appears when a user hovers over the shema tree memebr with mouse cursor.